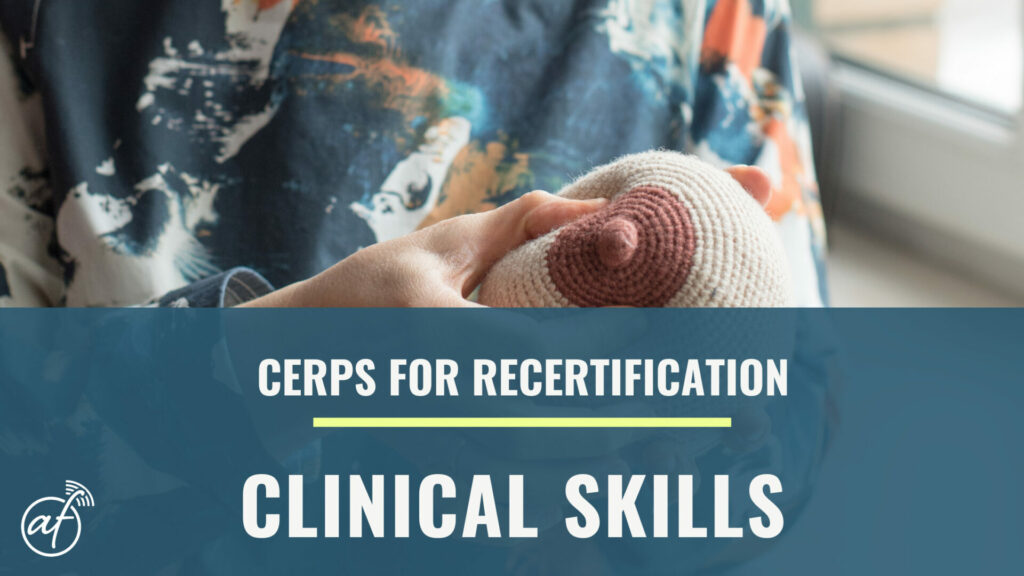 On demand IBCLC CERPs: VII Clinical Skills through continuing education
To recertify as an IBCLC using continuing education recognition points, you will be invited to take a self-assessment. This self-assessment will be scored immediately, and will tell you if you need to get a minimum of 5 of your CERPs from one or more of the 7 content areas on the IBLCE Detailed Content Outline.
This list covers IBCLC CERPs: VII Clinical Skills.
All IBCLC CERPs: VII Clinical Skills  are 1 CERP unless otherwise noted.
Courses in italics are expiring on 10/15/23.
All of these IBCLC CERPs: VII Clinical Skills  are available a la carte or in one of these bundles:
IBCLC Recertification CERPs for Clinical Skills include the following subject areas:
A. Transition to parenthood
B. Birth practices
C. Foods to eat/avoid that influence lactation
D. Employment – beginning or returning to work
E. Family lifestyle
F. Identifying support networks
G. Maternal mental health
H. Maternal psychological/cognitive issues
I. Breastfeeding dyad relationship
J. Safe sleep
K. Weaning
L. Cultural awareness
IBLCE does not require you to have CERPs in any specific subsection, just the main content area.
View CERPs in other content areas:
VII: Clinical Skills (You Are Here)