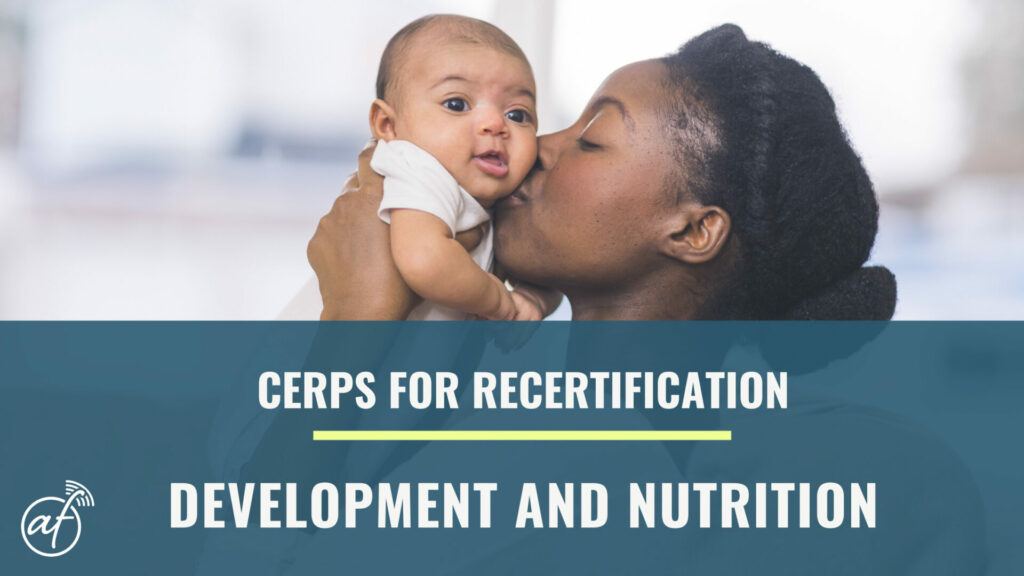 On demand CERPs in IBLCE Content Outline I: Development and Nutrition for IBCLC Recertification through continuing education
To recertify as an IBCLC using continuing education recognition points, you will be invited to take a self-assessment. This self-assessment will be scored immediately, and will tell you if you need to get a minimum of 5 of your CERPs from one or more of the 7 content areas on the IBLCE Detailed Content Outline.
All IBCLC Recertification CERPs for Development and Nutrition are 1 CERP unless otherwise noted.
All of these IBCLC Recertification CERPs for Development and Nutrition are available a la carte or in one of these bundles:
IBCLC Recertification CERPs for Development and Nutrition include the following subject areas:
A. Infant
1. Feeding behaviours at different ages
2. Food intolerances/allergies
3. Infant anatomy and anatomical/oral challenges
4. WHO guidelines for introducing complementary foods
5. Low birth weight and very low birth weight
6. Milk banking – formal and informal
7. Normal infant behaviours
8. Nutritional requirements – including preterm
9. Preterm development, growth, and behaviours (including late preterm)
10. Skin tone, muscle tone, reflexes
11. Term development and growth
12. WHO growth charts with gestational age adjustment
13. Stooling and voiding
B. Maternal
1. Breast development and growth (typical and atypical)
2. Breast surgery
3. Composition of human milk
4. Maternal anatomical challenges
5. Maternal nutritional status
6. Nipple structure and variations
7. Nipple modifications (e.g., piercings, tattoos)
IBLCE does not require you to have CERPs in any specific subsection, just the main content area.
View CERPs in other content areas:
I: Development and Nutrition (You Are Here)
II: Physiology and Endocrinology
III: Pathology
IV: Pharmacology and Toxicology
IV: Psychology, Sociology, and Anthropology
V: Techniques
VII: Clinical Skills